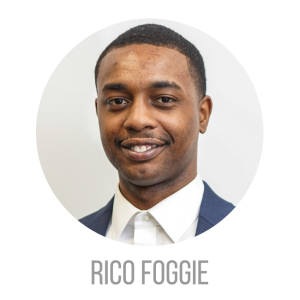 Rico is a top, up-and-coming realtor in Cincinnati, Ohio. Born and raised in Cincinnati, Rico knows neighborhoods, and school districts very well. Rico lives in Cincinnati with his wife, Amber, and two sons, Ryder and Zeke. The community is very important to Rico and his family.  They are involved around the city by volunteering at local churches and pantries. Amber is a caseworker for Jobs and Family Services and a volleyball coach at Purcell Marian.  Rico is a basketball coach at his local YMCA. Rico attended Norwood High school and then went to Butler Tech Police Academy. After graduation from the academy Rico worked for Hamilton County Sheriff's Office. He was licensed in Real Estate in 2019.
Rico's life revolves around family and Real Estate, besides having two of his own Rico is the oldest of 8 kids. Rico loves spending time with family, traveling, sports, and music. Rico decided to pursue a career in Real Estate to build financial freedom through investing in rental properties.
Rico joined the Preferred Ohio Sales Team in 2019 shortly after being licensed because he knew this team would bring his clients a five star experience! The Preferred Ohio Sales Team results and numbers of homes sold every year speaks to their success.
Rico Foggie, Realtor Sales Partner
Direct: 513-453-2896
Fax:  513-759-0100
Email:  Rico@PreferredOhioTeam.com