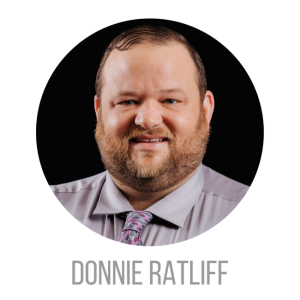 Donnie J. Ratliff has over 15 years of Customer Service experience. Being in the Music Industry has provided him with the people skills it takes to help clients achieve their dreams. Providing a great experience for his clients is Donnie's first priority. Music is a passion of Donnie's and this passion has given him the opportunity to work with high-level clients in the Music Industry. Donnie has lived in Ohio his whole life in many different areas of the state but has a great knowledge of Cincinnati and its surrounding areas. Now a Brown County native, he enjoys being in the country with his wife, dogs, and chickens.
In his free time, he enjoys camping, canoeing, and exploring new places with his wife, as wells as playing shows and writing music with his band. Donnie also enjoys making music with many different people in the community. Donnie is an avid concertgoer and enjoys the music of all genres, locally and nationally.
Donnie enjoyed actively searching for different and interesting properties, so after leaving a long career in the Music Retail Industry, Donnie decided that a career in Real Estate would be a good move. This gave him the opportunity to use the people skills that he learned, and his enjoyment in the search for property, to help people achieve their dreams of owning a home! Donnie is very excited to be part of the number one team in Ohio Keller Williams Preferred Ohio Sales Team!
Donnie Ratliff, Sales Partner
Direct: 513-508-4679
Email: Donnie@PreferredOhioTeam.com